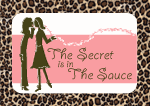 The lovely ladies at
The Secret Is In the Sauce
is having an
amazing giveaway
- a Blogger's Survival Kit complete with a blog makeover, a digital camera, voice recorder, a tshirt and more!
Their blog is a great idea as well - featuring best posts from their readers and helping drive up more traffic. Great concept!
Check them out and sign up for their great contest by visiting them here!