Every year my husband and I, being the
dorks
children at heart that we are, make a list of items that we'd love to receive for Christmas. Being that our family lives a little far from us they often express not knowing what we want or need. And kinda helping each other out with ideas of what floats our boat. Not that we need or want anything really - but it is fun to do none-the-less.
So, without further ado - our Christmas List!
STACY'S LIST:
Glass Jars (2 gallon, 1 gallon and 1/2 gallon)
I use these all the time! I fill them with ice, lemonade and lemon slices or other beverages or even food for parties, put them on my counter and fill with cereal, flour, sugar and that sort of thing and have even started using one of my 2 gallon jars to fill with our seashell collection - it is full! So, I am always needing more as I find new ways to use these jars! Currently I am in need of each size. These jars do not come in a set - you can buy them separately and they do not have a seal or anything - they are my favorite!!
They can be kinda hard to find in the stores - in Target they are grouped in the one odd aisle of items kinda away from the kitchen section...usually there is a makeup aisle, then rows of counter top appliances like
griddles etc - they are normally one the very last row of aisles in this section - not actually with the other kitchen stuffs. Same with Walmart, they are usually in same row where you would find the kitchen utensils around where they have the canning jars, etc.



6-12 Quart Stock Pot

- we love to make soups, etc in large quantities!!

Teapot with Loose Leaf Defuser - the one above is from Target


Spool Holder

- for my crafty endeavors :) Right now they are all rattling around in a drawer.

Pampered Chef Easy Accent Decorater - so I can finally get my cupcakes iced perfectly!! I've tried putting icing in a ziploc baggie and squeezing it out, tried icing with a knife - nothing is working! I've seen this puppy in action though!


Flour/Sugar Shaker
- for our cooking/baking endeavors - lately I keep thinking - huh, one of these would be useful!

Especially I as I try to "lightly coat" a pan with flour and end up just creating a snowstorm of flour all over my kitchen. LOL!



Blankets

- Honestly can never have enough! We're a snuggly bunch! :)





Same with socks!

- Both for Matt and I -

though Matt's preference is for the standard black work stock - my tastes are a little less traditional! Though standard white anklets are always a welcome I also love colorful knee highs! I can always use more of the more conventional tans, grays and blacks for too. :)







And gloves

! Who ever has too many gloves?!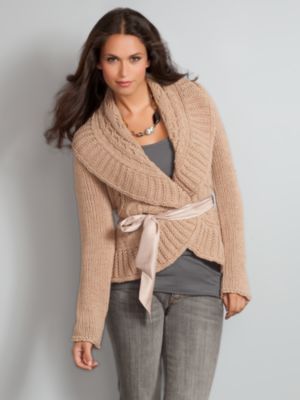 Sweaters, Etc:

Love this style - but really any sweater/turtle neck/long-sleeved thing -- I'm always cold!





Kitchen Towels

- Not sure what happens with kitchen towels but ours are in much need of a purging. The ones we have must be a good 5-6 years old (ones we got when we were first married) and goodness kitchen towels just do not hold up! It's just something you use everyday so they get a lot of wear and tear I guess.





Bath & Body Works:

aka a girl's best friend! Love their antibacterial handsoaps, their Lavender Vanilla Aromatherapy Line and their Mandarin-Lime Aromatherapy lines!

P.S. I am almost out of bubble bath, lotions and shower gels in these two scents. ;)






Table cloths

- any color, I just love table cloths! Our table size is:



Cooling Rack

(for baking)



Mini muffin/cupcake pan





Angelfood Cake pan -

surprising that being my favorite type of cake I don't actually have a proper cake pan for it.

MATT'S LIST:
only partial from what I know he's been talking about or that I know he needs :)
Stone Molcajete
(for making salsa and guacamole!) - can be found at Target and specialty stores like Le Gourmet Chef
Salsas, BBQ sauces or rubs, grilling spices etc
Nintendo DS Games
- especially football/sport games
Shaving Gels
Beer Assortments